Ireland's Best Quality Badge Holders
IrelandLanyards.ie is Irish largest customized badge holders' supplier, delivering the best quality badge holders across Dublin, Ireland! Order yours today.
Versatility Is Our Specialty: Dealing In All Types Of Badge Holders
Reel Badge Holders – A Wonderful Choice Of Employees
Want to keep your ID card safe for a longer time? But on the other hand, your job requires you to frequently access the card for various purposes like scanning? Reel badge holders can be your option! It allows one to use their IDs for scanning, time check-in & out, and other purposes while keeping the card safe and secure.
Waterproof Holder – Repel Moisture To Keep Cards Safe
Do you have employees working in poolside vicinity or steamy production plants? If yes, then the odds of damaging ID cards are very higher. Hence, provide them with waterproof holder, which will keep the moisture at bay. And just in case liquid spills on the card by mistake, our high-quality badge holder will repel the moisture.
Vertical Armband – Quash The Risk Of Snagging
Give your employees the ease of working in free motion with flexibility while keeping their ID cards visible by carrying them in their arms. Vertical armbands are usually used by employees whose job requires them to keep both arms occupied. In such situations, our finest vertical armbands enable at-a-glance identification.
The Ireland Lanyards Perks:
We guarantee the highest quality badge holders
You can experience the fastest turnaround with us
We deal in a limitless variety of ID badge holders
The prices here are really unbelievably affordable
Get your ID badge holders customized in any design

Our Clients Are The Unwavering Believers Of Our Service

Quality Is Now Within Your Reach: Check Our Affordable Pricing Of ID Badge Holders
| Holder Type | 50 Pcs | 100 Pcs | 150 Pcs | 200 Pcs | 500 Pcs | 1000 Pcs |
| --- | --- | --- | --- | --- | --- | --- |
| Clear ID Card | €2.00 | €1.85 | €1.55 | €1.4 | €0.75 | €0.55 |
| PU Leather | €5.99 | €5.75 | €5.35 | €4.99 | €4.75 | €1.99 |
| Plastic Holder | €3.99 | €3.75 | €3.25 | €3.00 | €2.75 | €2.25 |
From Sketch To Badge Holders - Get Your Badges Holders In 3 Simple Steps

1 - Express Your Design Requirements

Already know what you want? Express your imagination, let us know about the shape, design or colors, and we'd prepare a design draft for you.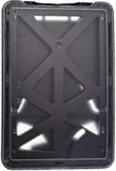 2 - Design Approval & Manufacturing

We'll show you the draft to ensure you don't have to guess the outcomes. Once you approve the design draft, we'll begin manufacturing.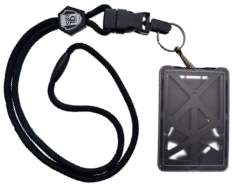 3 - QA, Packaging & Shipment

When we receive the manufactured badges, the QA team verifies the quality of the product, and then it is packed and shipped to the customer.
Irish People Praising Our Customized Badges Holder – See Their Reviews!
The perfect plastic badge holder, customized just as I envisioned! Excellent badge holder service In Ireland, for sure.
Attention to detail and a friendly team made ordering my badge holders a breeze! They are real professionals dealing with the process.
Top-notch service! The badge holders exceeded my expectations. Great value and professional communication.
Get Trendy & Customized Badges Holders From Ireland's Manufacturing Specialists
A custom badge holder making service powered by top-notch customer service
IrelandLanyards.ie is a top-rated ID badge holder maker across Dublin, Ireland, that has been ruling the industry for over a decade. We merge traditional skills with new technology to respond to market trends and deliver groovy products in no time. Being the leading supplier of the state, you can rely on us to get any bespoke design possible.
With an in-house manufacturing process, strict Quality Assurance, free artwork design, 24/7 customer service and wallet-healthy pricing, we bring everything you need. Our wide range of services can make plastic badge holders, lanyards, name badge holders, PVC badge holders, fun nurse badge holders and everything else to suit your specifications.
Our Guarantees To Deliver You Peace Of Mind
Free & Quick Shipping In Ireland
Highest Quality Badge Holders
100% Customer Satisfaction
Out of design inspirations? We can help!
We know not everyone can play around creatively with ideas and imagination. Hence, it's better to leave on experts who have been performing similar roles for years and years. Although we excel in customized badge holder manufacturing, just in case a customer needs assistance with design, we won't mind offering free of cost artwork design service.
Working with us won't make you go broke
Although professional customized badge holder manufacturers in Ireland charge so high that clients are convinced to scrape out even the last penny in their pockets, that doesn't happen here! We promise to offer the finest quality lanyards and badge holders at a price that no one can defeat. You can be assured that you are opting for the right people.
We deliver all sorts of badges holders
There's no limit to the types of badge holders we deal in. Ranging from reel badges to name badge holders to PVC badge holders and plastic badge holders; we deliver all sorts of customized badge holders. And if you are unable to pick the right type of badge holder for yourself, we can help you make the right decision. You just need to trust us for the process.
We care about your feedback & happiness
The goal is to leave customers happy and satisfied with the service. We don't burn bridges after shipping the package to the customer. Instead, we stay by their side and ensure they are satisfied with the delivered package. Just in case you aren't satisfied with what's delivered, you can always reach out to us, and we'd resolve your issue in a snap!
Customize your ID badges holder in any way
Want your customized ID badge holder in a certain shape or design? Have something unique in your mind? Fear not – we are known for turning ideas into badge holders. You can have your logo, certain slogans, quote or anything else printed on the badge, and we'd cater to your requirements. Just let us know what you wish to own as a badge holder.
Our 10+ year positive track record is unbeatable
Yes, we brag about being an unbeatable custom badge holder made of the town! From owning a positive reputation to delivering stunning customized badge holders all over the country, we have successfully cemented a spot. Over the years, we have supplied quality badges holder to some leading Irish companies, and we have no plans to slow down.
Your Concept, Your Estimate – Request A Quote
Ready to share a design with us? Send your requirements our way, and we will revert with a personalized quote to accommodate your requirements.