Custom Wristband in Ireland
We say you delight your wrist with a silicone wristband from IrelandLanyard.ie. Find quality bands at cheap prices!
Irish Wristbands Maker Are The Cornerstone Of Quality!
Silicone wristbands are fitness freak buddies
Does your day start and end with exercise? Then you're a fitness freak and those paper or cloth wristbands won't last long in that strict schedule. Our silicone wristband printing is perfect for athletes and fitness lovers, so you can flex your arm and wrist wrapped with quality custom bands.
Vinyl Wristbands are perfect for a longer run
Nobody wants to spend money on a poor-quality wristband that only lasts a week. Say hello to our high-quality printed wristband made in any material you want. Vinyl, terry or rubber, choose any to get your fun side out on the band that last long. We guarantee great material and wristband printing.
Tyvek wristbands for a successful festival
Not every wristband is meant to stay a lifetime with you. Spending tons of money on wristbands for a one-day event is nothing but a waste of money. Get our event wristbands that are easy on the pocket and make your festival a big success. Excellent printing at rock-bottom prices.
Premium Custom Wristbands Comes With Perks!
Enjoy the fastest artwork proof in IE within 24 hours only.
Unlimited and free revision makes it irresistible for you.
We let your wallet enjoy our cheap & affordable price tags.
Quality and printing are never compromised – guaranteed.
Customization is our superpower – pick any colour or print.

Notable Brands Adding Our IE Wristbands To Their Cart!

Get Your Hands On Wristbands at Just £150 For 100 Pcs!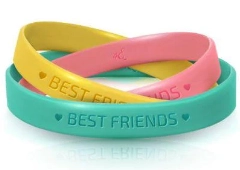 | Wristband Type | 50 Pcs | 100 Pcs | 150 Pcs | 200 Pcs | 500 Pcs | 1000 Pcs |
| --- | --- | --- | --- | --- | --- | --- |
| Silicon Wristband | €6.00 | €4.00 | €3.00 | €2.00 | €1.00 | €0.99 |
| Vinyl Wristband | €6.5 | €4.50 | €3.50 | €2.50 | €1.50 | €0.50 |
| Glow Wristband | €6.99 | €4.99 | €3.99 | €2.99 | €1.99 | €0.75 |
IE Wristband Company Revealing 'That's How It's Done'!

1 - Tell Everything To Experts

Let our experts know what's on your mind. Any inspiration or clue on how you like it will help us create better for you.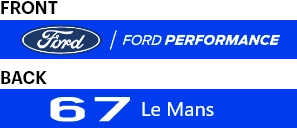 2 - Enjoy Free Revisions

Give a thorough review of the sample and ask for tweaks. Remember, we repeat the process until you're fully satisfied.

3 - Swift Turnaround & Done!

We begin to create a masterpiece on your green signal. No fretting about delivery since we render fast and secure.
5K+ Happy Clients Reveals A Lot About Our IE Wristbands!
Only they customize wristbands at cheap prices in Belfast and Kilkenny. I have always had a great experience.
I loved how my printed wristbands turned out. They took my ideas into consideration and did a great job.
They are undoubtedly the best wristband maker in Limerick, Ireland. No hassle process - No hidden charges.
Introducing The World With Ireland's Best Wristband Company
We produce more than just wristbands – we are making it your way!
Starting a wristband company, our motive was clear – we wanted to be the best in Ireland and cover the gap in the market. Our company came into the picture like a storm with revolutionary custom wristbands that are made how you want them to be. From material, colour to text or any customization, we do that for you. All wristbands are bespoke and high quality that tells why we're the best.
But that isn't the best part. We make our services irresistible by attaching reasonable prices tag to our products. While others are charging hefty prices, you will find relief after checking out our prices. Moreover, our fast delivery and unlimited revision are all set to take your attention since it's a steal. We don't charge anything extra for revision and our free shipping is conducive to a stress-free wallet. Now, you know why 7000+ customers are raving about us in Waterford and Galway.
Ireland's Custom Wristbands Come With…
Don't settle on off-the-rack: Pick custom
Owning custom wristbands is perfect to let your inner feeling out; sharing the thoughts and ideas you support. We are no ordinary wristband company but print what you want. Not limited to printing, we give you a bunch of options to choose from, including colour, material, text or even quantity. No matter how difficult the design is, we always pull it off with precision and stellar services.
Lightning-fast sample within 24 hours
We know you can't wait long for your wristbands. That's why our speedy process will be like a cool breeze of air for you. Don't underestimate our capabilities – your wristband mockup will reach your mail within 24 hours only. Now you take out your glasses and give them a thorough look so that we can revise them as you want. Remember, the mockups and revisions are totally free.
Free shipping covers IE's every corner
Is your event approaching fast and your order is delayed? That is such a nightmare. But fortunately, that's not the case with us. We not only customize your wristbands but deliver them right to your doorstep, no matter where you live in Ireland. Topping it off with quick delivery and free-of-cost shipping, people can't resist filling their cart with our customized wristbands in Dublin.
Rock bottom prices for happy wallets
Do you always want to have customized wristbands but can't because of high prices? Then you've landed in the right place. Looking at our prices will give you relief that your account won't plummet to zero. Our prices are affordable and cheap to give you more value on less payment. Even with cheaper rates, we never run down the quality, but you always get the best for the price.
Overlooked quality is out of the question
You see many companies offering unrealistically cheap rates. It's a trap to get you stuck with their poor-quality wristbands that look cheap and ugly. Ditch that now and get your wrist ready for exceptional quality silicone wristbands. Our team of experts are to knock out the poor-quality ones to trash, so you always get the best from us. Easy worn out or fraying isn't something we produce.
Clients find solace in our 24/7 services
While shopping for any product, experience plays a critical role. We at Irelandlanyard.ie are committed to giving you an excellent experience from start to finish. Whether it's a query or a project update, our experts address it within no time. Topping it off with freebies like shipping and unlimited revision, you'll return with a happy face. Avail our customer service 24/7 and get your issues sorted!
Wondering what your custom wristbands would cost? Get an exact estimate from our experts by simply filling out the form. Alternatively, give us a quick call on weekdays between 9 am to 6 pm.