Custom Name Badges In Ireland
LanyardsIreland.ie crafts sturdy, shiny, and practical name badges at a price that won't hurt your budget. These practical branding solutions are versatile and have tons of unique applications.
Ireland's Most Trusted Name Badge Makers
Introduce Yourself With Our Name Badges
Do you want your staff to be easily located by the clients or make your team feel more connected with the company? The only solution is our name badges in Ireland. If you put your company logo on them, then they can be a walking advertisement for you too. Next time your name will be the first thing that people notice.
Attachment Choices That Offer Flexibility
Your badges have to hold their place to be clearly visible. You can go for the standard pin or clip-on name badges. However, we also offer magnetic systems and clothes-friendly fasteners. They are unlikely to damage the garment and can easily be placed. On the contrary, pin and clamp systems are more reasonable options.
Symbols Of Longevity & Endurance
From using state-of-the-art machinery for high-resolution printing to consuming industrial-grade materials, we make sure that you get premium-quality badges. They will put all the limelight on your company and keep doing that till you need a new set of work name badges. There will be no signs of wear and tear after everyday use.
The Top Choice For Name Badges In Ireland
No set-up charges for your graphical artwork
Long-lasting badges that are lightweight too
Smooth processing of bulk orders
Expedited deliveries offered for rush orders
Free design consultation and 24/7 support

Badge Suppliers Of Famous Irish Companies

Quality Name Badges Within Your Budget
| Badge Size | 50 Pcs | 100 Pcs | 150 Pcs | 200 Pcs | 500 Pcs | 1000 Pcs |
| --- | --- | --- | --- | --- | --- | --- |
| 1.5 - 2 Inches | €6.00 | €4.00 | €3.00 | €2.00 | €1.00 | €0.99 |
| 2.5 – 3 Inches | €6.5 | €4.50 | €3.50 | €2.50 | €1.50 | €0.50 |
| 3.5 – 4 Inches | €6.99 | €4.99 | €3.99 | €2.99 | €1.99 | €0.75 |
Name Badges Available Backing Types
A Hassle-Free Production Of Name Badges In Ireland

1 - Get Connected With Our Team

Before we can sketch a perfect design for you, it is important for our team to read your mind and capture your vision. So share your badge requirements in detail with our experts.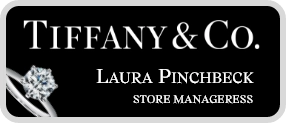 2 - Review The Digital Design

The digital files with the initial design will be shared so you can review them. Based on your feedback, the changes will be made, and the final design will be sent for production.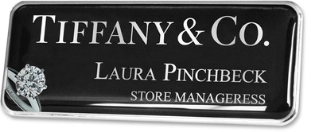 3 - Receive Your Badges

Your freshly crafted staff badges will be checked individually, packaged safely, and quickly delivered to your doorstep in a quick time with complete caution and care.
Irish Clients Sharing Their Opinion About Our Name Badges
"The things that I like the most about this company are its no set-up fees and no minimum order limit. Most importantly, they design badges quite remarkably."
"The reusable chalkboard name badges were perfect for my café. I am super impressed by their craftsmanship and also the attention to detail in their products."
"I ordered engraved name badges for my whole staff. The order was big, but they processed it quite smoothly. Every individual piece looked amazing."
Unveil Your Identity With Our Personalised Name Badges In Ireland
A Perfect Option For Effective Corporate Branding!
IrelandLanyards.ie wants you to wear your name with pride. We offer custom name badges that can elevate your presence by making your identity more noticeable. These meticulously crafted badges redefine individuality. You can express yourself with a spectrum of font styles, colors, and materials, reflecting your brand's essence or your personal flair. Whether it is for corporate events, conferences, or casual gatherings, our badges make your introduction memorable.
What sets us apart? The fusion of impeccable quality with limitless customisation. Our badges don't just display a name; they showcase your unique narrative. Manufactured with top-tier materials, they are built to withstand the test of time without breaking or losing their charm. Our products are an effortless combination of elegance and durability. From magnetic attachments for convenience to eco-friendly options that resonate with your values, we cater to every need.
Stand-Out Features Of Our Name Badges In Ireland
Coverage All Over Ireland
Quality Badges With Immaculate Finish
From durable metals to acrylics, or eco-friendly plastic, you can pick any material or finish that reflects your brand's uniqueness. We offer options like a clear resin domed finish that can truly magnify your name on those badges. Every single piece is printed with modern machinery and finished with a hard-wearing, scratch-proof coating. It gives your badge an extra appeal and keeps them looking terrific for a very long time.
Customise Them As Per Your Liking
We can't deny that first impression counts. You can make yours an impactful one with our custom-tailored and well-designed custom name badges. We offer a wide range of shapes, sizes, colors, and materials to choose from for your staff name badges. You will get the freedom to design something that matches your vision and complements your brand's identity. It is also your choice to pick between pin, clip, or magnetic badge fittings.
Affordability Is Always At Its Peak
You can pick any template for name badges from our site and collaborate with our expert designers to make them extra creative and attention-grabbing. If budget is one of your top concerns, leave it behind. We are famous all over Ireland, including Dublin, Galway, Limerick, Cork, and Belfast, because of our cheap and affordable prices. Getting high-quality magnetic name badges at these rates is a deal you can't miss.
A Perfect Choice For Eco-Conscious Brands
If you are concerned about your ecological footprint, then we have a perfect solution to support your sustainable efforts. Yes, we are talking about eco-friendly work badges. You can go greener with our permanent or reusable badges that keep style, quality, and practicality everything in check. Recycled acrylic or durable alder wood are some options to get thick and shiny engraved name badges that are safe for the environment.
Quick Production With Instant Deliveries
You can order personalised name badges in any quantity. We can process huge orders swiftly without causing any unnecessary delays. Also, the customers are not restricted by any minimum or maximum order limits. The whole process, from the placement of your order to its designing and delivery, is completed at a rapid pace without compromising the quality. Your deadlines matter, and we try to be as quick as we can with our deliveries.
Versatile & All-Purpose Personalised Badges
From large name badges for tradeshows to name badges for nurses, we offer multipurpose products that can fit all your needs. You can get them for any specific use or application. We make sure that they precisely serve the purpose and satisfy all your requirements. Their common goal is to highlight your name or promote your brand. Our customised products can be your ideal tool for corporate branding, as they are hard to ignore.
A Custom Quote Just For You!
We just need a few details about your required badges, and within no time, you will get a custom-tailored quotation from our team. You just need to fill up this form to initiate the project.