Carry Your Identity With Confidence
Using Best Types Of Lanyards
As one of the best-rated custom lanyard manufacturers, IrelandLanyards.ie is Dublin's best spot to order any type of customized lanyard, including polyester lanyards to woven, full-colour, tubular, nylon and cord lanyards. 10+ years of experience, underpinned with top-notch customer service and competitive pricing – we pull all stops to fulfil your requirements by all means.
Market Giants Place Their Confidence Into Us For Custom Lanyards In Ireland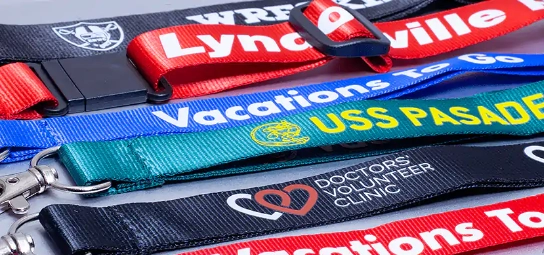 Your One-Stop Store For Custom Lanyards
3 reasons we are the best-in-class custom lanyards makers in Ireland:
We use the latest technologies to manufacture custom lanyards.
We are known for balancing prices and quality at the same time.
Your lanyard can be customized in any design or shape possible.
Equip Your Employees With The Right Type Of Lanyard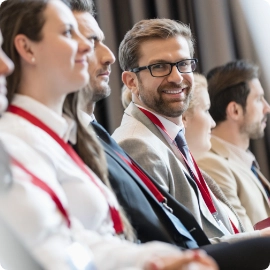 It is usually 6 feet long
Comes in 'bungee-style'
Serves as a great fall arrest system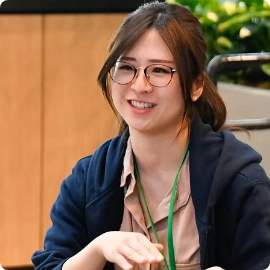 Comes in fixed length
Designed to keep one in place
Supports one on a vertical surface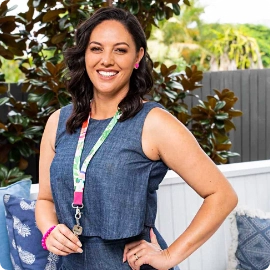 Self-Retracting Lanyards (SRLs )
Ideal for arresting a fall
It offers better mobility
Designed using retractable rope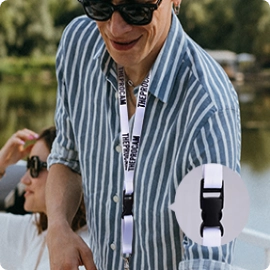 Offers a 100% tie off
Uses synthetic web straps
Change anchor points easily
109,780,388+ Custom Lanyards Sold So Far!
Ordered woven lanyards from them, and they delivered absolute perfection. The shipment was on time, and the quality was just beyond my expectations.
I wanted 50 pieces of nylon lanyards, but my budget was limited. To my surprise, they accepted my order and delivered me the highest quality lanyards quickly.
I ordered tubular lanyards from them and am very thankful to them for offering me free artwork service. It was a great time working with these professionals.
The Variety Here Is Limitless – We Supply Every Type Of Lanyard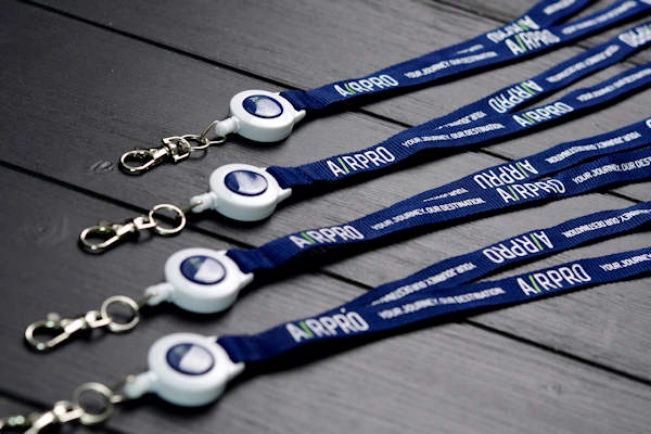 Comfortable, durable, and easily washable

Our polyester lanyards are the market's top sellers due to their matt finish and exceptional durability. The matt finish with lithographic or silkscreen printed method enables various colors transfer without compromising the quality. Our top-quality printing methods guarantee that the color will never fade away or rub off.
Attachment options: Can be attached with any type of clip or accessory.
Reasons to opt polyester lanyards
Cost-effective and best for spot colour printing
Delivers extraordinary comfort to the wearer
Apply Scope: Workplace, festivals, conferences, charities.
| Lanyard Type | 50 Pcs | 100 Pcs | 150 Pcs | 200 Pcs | 500 Pcs | 1000 Pcs |
| --- | --- | --- | --- | --- | --- | --- |
| Polyester Lanyard | €6.99 | €4.99 | €3.99 | €2.99 | €1.99 | €0.75 |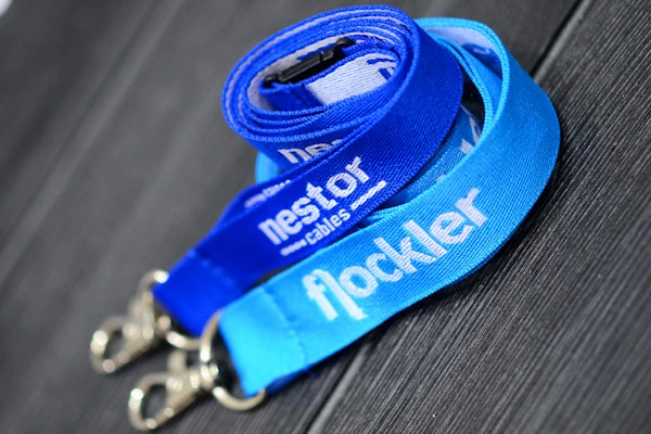 Beautiful, textured-feel, durable

Attachment options: Can be attached with any type of clip or accessory.
Our woven polyester lanyards are made using high-quality polyester material to demonstrate your firm's logo extremely well. The only difference between our woven and polyester lanyard is that the required design is woven using thread for woven lanyards. Hence, your design stays intact for a longer time, even if the lanyard gets wet.
Reasons to opt for woven lanyards
Best suitable for the company's logo/basic text
Gives a more professional look


Apply Scope: Businesses, schools, public gatherings, trade shows.
| Lanyard Type | 50 Pcs | 100 Pcs | 150 Pcs | 200 Pcs | 500 Pcs | 1000 Pcs |
| --- | --- | --- | --- | --- | --- | --- |
| Woven Lanyard | €6.00 | €4.00 | €3.00 | €2.00 | €1.00 | €0.99 |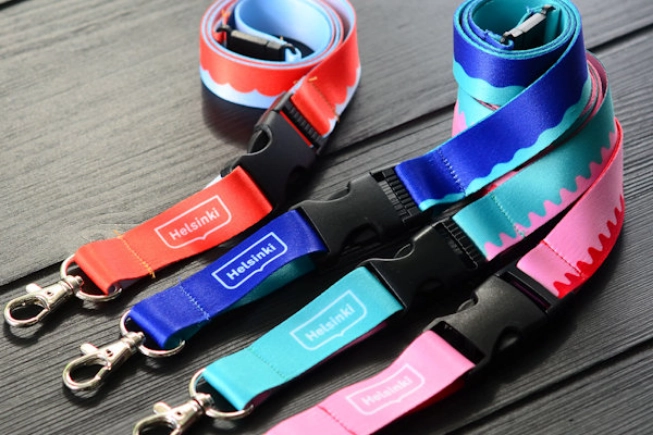 Vibrant, print never rubs off, silkier-touch

Want to make your organization stand out in the crowd? Our trendy, vibrant full-colour lanyards printed with your firm's logo can be your choice. We use a state-of-art dye sublimation process to ink dye the fabric. As a result, the print never rubs off the fabric. Hence, your brand's logo continues to make a bold statement for the longest span.
Attachment options: Can be attached with any type of clip or accessory.
Reasons to opt for full-color lanyards
Your design will never fade off the lanyard
Has a silkier touch, making it comfortable to wear


Apply Scope: Conventions, trade fairs, backstage passes, hospitals.
| Lanyard Type | 50 Pcs | 100 Pcs | 150 Pcs | 200 Pcs | 500 Pcs | 1000 Pcs |
| --- | --- | --- | --- | --- | --- | --- |
| Full Color Lanyard | €6.00 | €5.00 | €4.5 | €3.00 | €1.5 | €0.75 |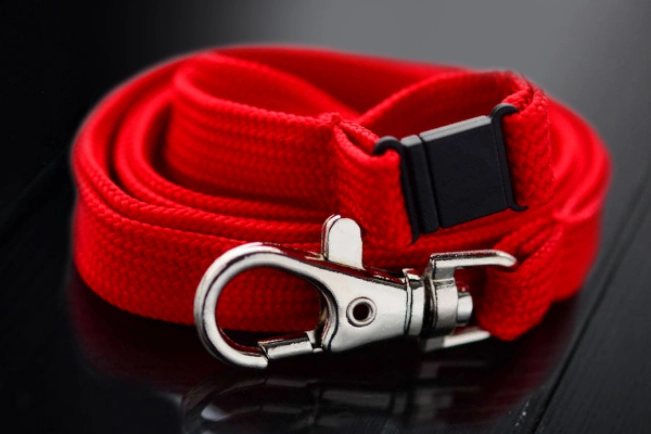 Loosely stitched, affordable, crimped at the end

Eyeing something that doesn't costs you earth but still looks eye-catchy? Our tubular lanyards can be the best option! Tube lanyards are manufactured using loosely stitched polyester, shaped into a tube form and then crimped. Tubular lanyards are popular among customers who aren't willing to spend a fortune but still need something sophisticated.
Attachment options: Can be attached with any type of clip or accessory.
Reasons to opt for tubular lanyards
Good for children, as it feels really light around the neck
This is a low-cost option that will burn a hole in your pocket


Apply Scope: School students, organizations, concerts, festivals.
| Lanyard Type | 50 Pcs | 100 Pcs | 150 Pcs | 200 Pcs | 500 Pcs | 1000 Pcs |
| --- | --- | --- | --- | --- | --- | --- |
| Tubular Lanyard | €5.00 | €4.5 | €4.00 | €3.50 | €1.75 | €0.99 |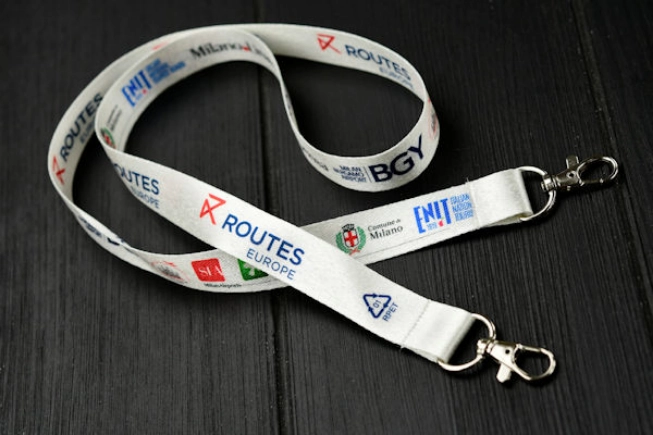 Collapse-resistant, crisp designs, elegant

Known for its synthetic fabric, our nylon lanyards are famous for a smooth, eye-pleasing surface. Since we use top-quality nylon, our lanyards have excellent collapse resistance that encourages safety. The smooth texture makes the design appear clear, crisp and vibrant. We use silkscreen mess, paint and squeegee for nylon lanyards.
Attachment options: Can be attached with any type of clip or accessory.
Reasons to opt for nylon lanyards
The lustre finish and glossy appearance make it look elegant
They are highly durable and don't fade away when washed


Apply Scope: Promotional, branding and marketing purposes.
| Lanyard Type | 50 Pcs | 100 Pcs | 150 Pcs | 200 Pcs | 500 Pcs | 1000 Pcs |
| --- | --- | --- | --- | --- | --- | --- |
| Nylon Lanyard | €6.5.00 | €4.50 | €3.50 | €2.50 | €1.50 | €0.50 |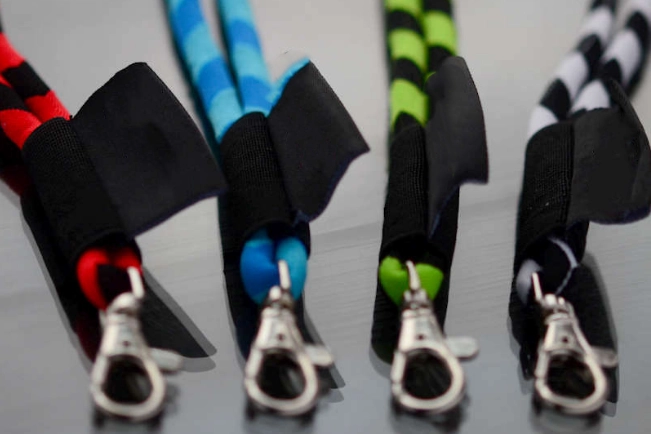 Collapse-resistant, crisp designs, elegant

Wish to improve security at an over-crowded event? Grab the cord lanyards! You can simply attach keys or ID cards using the metal swivel hook. The trusted/authorized people can carry their cards around their necks so they can be identified easily. Cord lanyards can be customized in any length, design, color etc.
Attachment options: Can be attached with any type of clip or accessory.
Reasons to opt for cord lanyards
Improves security at your event or workspace
An ideal and quick way to identify authorized persons


Apply Scope: Conventions, corporations, trade fairs etc.
| Lanyard Type | 50 Pcs | 100 Pcs | 150 Pcs | 200 Pcs | 500 Pcs | 1000 Pcs |
| --- | --- | --- | --- | --- | --- | --- |
| Cord Lanyard | €6.00 | €4.00 | €3.00 | €2.00 | €1.00 | €0.99 |
A Range Of Attachments That Will Meet All Your Needs
From Idea To Reality – Get Any Type Of Lanyard In 3 Quick Steps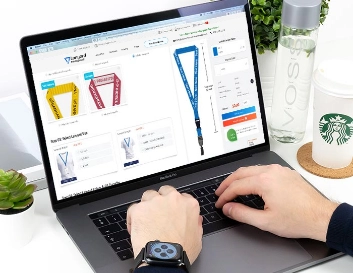 1 - Grab The Quote

Show us your design, let us know about your preferred type, and we'll revert with a quote. Once you are happy with the quote, we'll take things forward.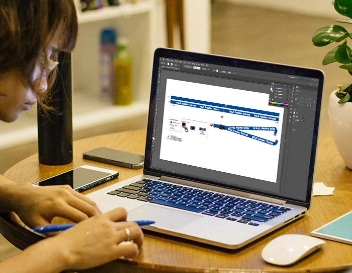 2 - Approve Design

We don't want you to stay anxious by second-guessing the results. Hence, we'll design the artwork at no extra charge and edit it until you are satisfied.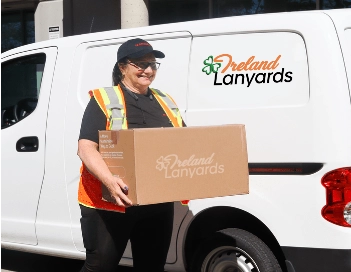 3 - Receive Your Order

Approximately 20 days after your approval, you'll have your custom lanyard designed per your precise specifications. Wear and flaunt your unique style.
Extra Reasons Proving The Supremacy Of IrelandLanyards.ie – Why Choose Us?
Every 8 out of 10 firms choose us over other manufacturers, and we boast this fact.
Businesses that take quality seriously are convinced to order lanyards from us. That's because we have invested heavily in raw materials to ensure that the bred outcomes are never short of excellence. Our manufactured custom lanyards are known for staying at the customer's side for the longest span, without fading, fraying and tearing apart.
Here, with our top-of-the-line customer service, competitive pricing, quick turnaround and variety of attachment options – your lanyard can be customized in any shape, design, color or size. Also, our widest range of attachment options meets the customers' varying requirements. So, with us, you'll have the best value for your money.
IrelandLanyardsIE's Guarantees – Keeping You Satisfied Is Our Top Priority

Customize it in any way you want – it's your call
Promote your brand in style through stylish and colorful custom lanyards that make carrying ID cards or badges more joyful. You can strike your impression using the chic personalized lanyards without overdoing your dressing game. We give great attention to the beautiful lanyard-making process that will surely light up your employee's day. Make it more personal by adding your firm's name, slogans etc.
Get any type of lanyard – diversification is our USP
What truly makes us stand out is our familiarity with all types of lanyards! You can confidently order woven lanyards to polyester ones, full-colour lanyards, tubular, cord and nylon lanyards. There's nothing our professionals can't do. Despite the differences in the types, there's one thing that's common is – quality! Be it polyester or nylon; we promise to use the second-to-none quality raw material.
Your satisfaction is our victory – happiness guaranteed
We guarantee 100% customer satisfaction. We never get tired of watching a client jump out of satisfaction. And just in case we notice a problem, the support team instantly arms themselves to fix the issue. This means you, as a customer, can always come to us and expect your issues to be resolved without wasting time! Hence, you can be assured that you be getting full value for your money.
We prioritize comfort – wear soft lanyards all day long
 We know your employees will be carrying the lanyard more than any other apparel or dress in their wardrobe. Hence, the lanyard must be comfortable and nice around your neck or hand and doesn't cause any itchiness. Therefore, we produce our products using the silkiest, softest and best breed of fabric that feels light on bare skin. We prioritize comfort and hence assure you the comfiest straps for you.
Easy to use lanyards – attach & remove hassle-freely
Lanyards are useful only if they are easy to attach and remove. We design these straps with a removable buckle so you can easily attach or remove cards without taking off the entire strap. You will just have to snap open the buckle, remove/attach it as needed, and snap it back. It's that simple. This makes it very easy to carry keys, ID badges and other belongings without struggling with the strap.
10+ years in this market – we are highly experienced
We stepped into this marketplace 10 years ago, and our first product is still top-selling! And here's the reason why – throughout the entire time, we have focused greatly on the quality of the products we deliver. The raw material we bring into use is of the finest breed. The Quality Assurance team closely examines the product before sourcing it to be assured that it's of a superior standard.